College-Linked
Retirement Communities

At college-linked retirement communities, many of the residents are retired professors or alumni of the college or university, but this is usually not a requirement.  Anyone looking for intellectually stimulating programs will be involved in finding these schools.
Making it convenient to maintain lifelong learning is the purpose of these communities.

Many university-linked communities also will provide an assisted living option. 
Communities near colleges...
Many other communities that are not formally college-linked are near colleges.   They have attractive lifelong learning programs.  These programs provide vital mental  stimulation for the senior years.
Contents: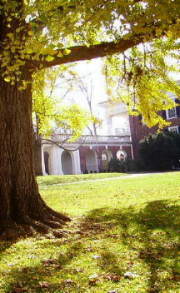 University of Virginia campus
New England
Mid-Atlantic
Midwest
Southeast
Southern
Southwest
West
Northwest
Communities Near Colleges
The College Town
Junior Colleges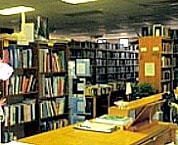 Also, see our new article about libraries in the digital age and programs for seniors.
Recent evidence shows that the brain can be helped to keep young with lifelong learning programs.  These programs, proven to aid longevity, possibly keep the brain from memory diseases.   Research is on-going.
If one wishes to live in a college-linked community, be sure to carefully study their restrictions and financial arrangements.
Research shows that many people wish to return to the towns they enjoyed during their college years for their retirement.  
New England College-Linked Retirement Communities
Massachusetts 
Newton
Lasell College - Lasell Village By Campus Continuum. Also CCRC - life care community includes nursing home - village style apartments with required continuing education and lifelong learning programs
11120 Seminary Ave., Newton  Lasell Village
Dartmouth - Under consideration
University of Massachusetts at Dartmouth By Campus Continuum. Check status with the school.  

About Campus Continuum, developer

Campus Continuum developed over-55 retirement communities at colleges. The residences are condominiums, town homes, single-family homes, depending on the community. You do not have to be previously affiliated with the college (please verify.)

Residents at over 55 communities that were developed by Campus Continuum on college campuses have access to programs and facilities of the college, seminars and programs. There are paid jobs and/or volunteer opportunities.
In most cases, there is a Dean of Programs who coordinates relations between the college and residents. By going to their site, you can see proposed future communities and plenty of detail about them. Check out their excellent articles in the resource category.  Please verify all information.

Maine 
Orono
Dirigo Pines - University of Maine - 9 Alumni Dr., Orono, Me. (866) 344-3400 Dirigo Pines
Hallowell
Granite Hill Estates Hallowell - affiliated with the University of Maine at Augusta Senior College (UMASC) (Augusta is between Portland and Bangor inland)  Granite Hill Estates and for educational programs in Maine:  University of Maine Senior College 
   60 Balsam Dr., Hallowell, Me. - 888-321-1119
Connecticut
West Hartford
The McAuley

- Adjoins St. Joseph's College and residents can attend college events - West Hartford - CCRC, independent and assisted living (860) 920-6300
New Hampshire

Hanover
Mid-Atlantic Colleges
New York
Ithaca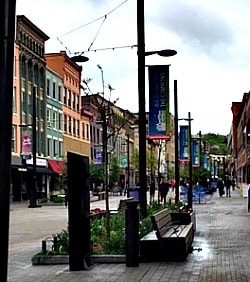 Downtown Ithaca Market Common
Longview at Ithaca College, Ithaca, NY  - According to the Milken Institute, Ithaca is one of the best small cities for healthy aging.  It offers many programs in the five schools at Ithaca College. This community offers independent apartments, patio homes and assisted living. Overlooks Cayuga Lake.
It also has an active college town since Cornell University is also located here.  Rents listed on the website. 
1 Bella Vista Dr., Ithaca, NY -   607-375-6300 
See our Review of the city of Ithaca
Rochester
Rivers Run Cottages - Rochester Institute of Technology - Rivers Run Rochester - 1 1/2 miles from the campus - independent living apartments include 2 meals and housekeeping and purchase cottages  
Westchester County
Broadview Senior Living at Purchase College

 - Rye, NY - Independent senior living with learning programs and activities at Purchase College.  Some of the educational amenities:
The energy of a college campus
Performing Arts Center
College Library
Lecture Series
Audit Classes (as space available)
Faculty-led travel programs
Volunteer mentoring
and more.
1 and 2-bedroom apartments and villas.  Entry fee ($250,000-2 Mil) plus monthly fee. (Verify as prices can change.).  Call for more information.  914-627-9011 - 6 International Dr., Rye Brook, NY  
Pennsylvania
State College
Midwest
Michigan 
Ohio 
Oberlin
Granville
Kendal at Granville at Granville, Ohio - a relationship with Denison University. Kendal at Granville
Illinois
Lisle
Villa St. Benedict - Benedictine University - (888) 844-7823
Indiana
Anderson
Anderson University - University Village Condos - Indiana - Independent Living
1100 E. Fifth St., Anderson   Anderson University
South Bend
Notre Dame - Holy Cross Village - South Bend, Indiana, - Currently independent living Holy Cross Village
Bloomington
Indiana University Bloomington - (877) 330-4370
West Lafayette
Purdue University

West Lafayette - University Place - (765) 464-5606
Colleges in the Southeast
Virginia
Charlottesville
Washington and Lee, Kendall at Lexington Near Charlottesville - Within walking distance to college. Apartment and college living. Also continuing care.  Kendal at Lexington
North Carolina
Davidson
Durham
The Forest at Duke - Duke University, The Forest at Duke, CCRC, Durham, NC - 2701 Pickett Rd., Durham  
South Carolina 
Greenville
The Woodlands at Furman - Greenville - Adjacent to Furman University with university programs and Osher Lifelong Learning program. Independent, assisted and continuing care community. The Woodlands at Furman
Rock Hill
Winthrop University - Rock Hill in the Northeast corner of SC - They are utilizing a survey to gauge interest in having an over 55 community linked to their university.  701 Oakland Ave., Rock Hill  
Georgia 
Athens
University of Georgia

 - 800-homes - golf community -
1050 Chancellors Dr., Statham, Ga.    The Georgia Club
(Also see our Georgia page--there are many condominiums around the university, in Athens, Ga., with walking distance to the school.)
Southern Region
Florida 
Gainesville
University of Florida at Gainesville - Oak Hammock - - Includes Continuing Care Oak Hammock
St. Petersburg
Addington Place at College Harbor - Eckerd College - College Harbor Retirement Community - Independent living close proximity to Eckerd College with lifelong learning programs.  
4600 54th Ave. S., St. Petersburg, Florida  
Alabama 
Tuscaloosa
Capstone Village - University of Alabama - Rental options available with no large entrance fees - Amenities include Wellness Center, dining, social activities. 
601 5th Ave. East, Tuscaloosa - (800) 799-5099
Arkansas 
Conway
Southwest Region Colleges
Texas 
Austin
University of Texas - Longhorn Village - upscale retirement village - deposit and monthly fee - apartments and villas - Independent and continuing care if needed - heated pool, day spa, fitness, activities.  12501 Longhorn Pkwy, Austin - 512-266-5600
Arizona 
Tucson
University of Arizona

 - Tucson, Arizona - Arizona Senior Academy of life long learning - Village Academy - Independent Living The Academy Village
Colleges in the West
California 
Palo Alto (Northern)
Thousand Oaks (Southern)
Northwest Colleges
Oregon 
Lake Oswego
Mary's Woods - Marylhurst University - Lake Oswego near Portland  
Communities Near Colleges
Another type of retirement community that can provide academic stimulation is one that is near a college and has a close connection with the school but is not a college-linked retirement community.
At communities in or near colleges you do not have to go very far to do the thing you love the most -- reading, learning, libraries, discussions with stimulating people, interacting with young people and much more can be a short and convenient walk away.
Consider these outstanding examples:

Kendall CCRC's
The Kendall continuing care communities (Quaker traditions) have a natural affinity to lifelong learning. Most have an informal association with area colleges.
Their locations include:
Massachusetts: Northampton and Easthampton by Lathrop

New Hampshire: Kendal at Hanover CCRC

New York: Kendal at Ithaca CCRC
Pennsylvania: Kendal at Crosslands CCRC - adjacent to Longwood Gardens and near Univ of Delaware, Haverland and Swarthmore colleges.
Kendall in Bucks County: Chandler Hall - Independent with many Personal care options - Apartments and cottages. 
Ohio: Kendal at Oberlin CCRC - one mile to Oberlin College and music conservatory.

Virginia: Kendal at Lexington CCRC near Washington and Lee and Virginia Military Institute.
Go to www.kendal.org
Maryland: Collington - Connections with local community college - take as many college courses as you choose in a year for a small fee.
10450 Lottsford Rd., Mitchellville, Md. - 888-257-9468
Illinois: The Admiral at the Lake - 929 West Foster Ave., Chicago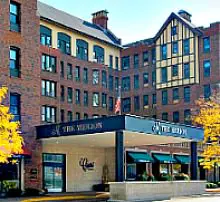 Photo by The Merion
The Merion - Evanston - North Shore of Chicago - Senior rental community that includes meal plan and housekeeping - Lifelong learning programs at Northwestern University just 4 blocks away.  Also clubs and discussion groups.  Studios, 1- and 2-Bedroom apartments.  Rents start $2400./month (verify as rents can change) with 13-month lease (verify).
1611 Chicago Ave., Evanston, Illinois - 877-343-0506
Rhode Island: Brown University in Rhode Island has an adult education program called the Brown Community for Learning in Retirement offering learning experiences for retirees living within commute distance of Providence. Courses are held at Brown.
Laurelmead Retirement Community, located near Brown in Rhode Island, has a course connected to Brown as part of their "Laurelmead College" program. At Laurelmead more of their residents matriculated at Brown than at any other college. Several residents are on Brown's faculty but residents who are alumni of many other schools reside there as well. Making it easier to reside there is that there are no educational requirements. So, regardless of educational background, residents continue education and learning.
Prestwick-Chase Retirement Community Saratoga Springs, NY - These senior apartments, in one of my favorite retirement areas, with month-to-month leases, have educational programs in the community and other nearby locations with the Academy for Lifelong Learning at SUNY Empire State College. Near Skidmore College.

Prestwick-Chase Retirement Community
Liberty Hill

State College, PA. - For those over 55 by Traditions of America - Minutes to OSHER lifelong learning program at Penn State. New town homes for purchase - 411 Beacon Circle Phone: 814-466-9490 - Open daily
The College Town
Another alternative to college-linked communities is the college town. Studies show that many seniors return to the towns they attended college in because of the association with happy times. 
Most state supported colleges will allow seniors to audit classes free or reduced cost but check with the college to make sure.
The following list shows schools with informal programs for seniors or are college towns and are not fully college-linked retirement communities:
University of Tennessee in Knoxville - University Outreach and Continuing Education University Outreach. "Seniors for Creative Learning" Community: Various assisted living and continuing care in area.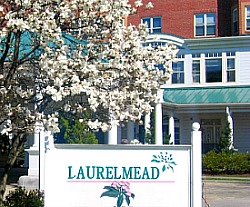 Brown University - Laurelmead Retirement Community has connections to Brown University in Providence, Rhode Island. Brown has an adult education program called "Learning in Retirement" for seniors within commute to Providence. 150 co-op apartments.
University of Georgia

- Athens - A college town - Community: Various assisted living and continuing care communities such as Iris Place by Holiday Retirement Corp. Also, Sterling Mills Retirement Commmunity - single homes. Various condominiums are being built in Athens with walk distance to the school and affiliated with athletic recreation.
University of Southwest - Georgetown, Texas - Senior University, a partnership with University of Southwest, Georgetown, Texas.
See Texas in Southwest Category for Communities in Georgetown, Tex.
More popular college towns for retirement in addition to above:
Southern Oregon State College- Ashland, Oregon

Univ. of California San Luis Obispo

University of Colorado Boulder, Colo.

Stony Brook University Long Island, NY - has Osher Lifelong Learning Institute.
Osher Lifelong Learning at Colleges and Universities
Osher Lifelong Learning:
If you have not heard of Osher Lifelong Learning Institute, it has lifelong learning programs at 120 colleges and universities across the United States. This is a stimulating program for 50+ adults. For a fee, seniors have access to guest speakers, courses etc for continued learning at the school. See if there is one near your retirement area. Go here to find a OLLI program near you.

More Popular college towns for retirement:
Ann Arbor; Iowa City; Cambridge; Ames, Iowa; Corvallis, Ore; Palo Alto, Calif; Chapel Hill, NC; Madison Wisc; Ithaca, NY; Santa Cruz, California; Westwood, California; Charlottesville, VA.
Junior Colleges
There are numerous junior colleges also that have programs at retirement communities.  Check with the community you are interested in to see if there are any educational programs if there is a junior college nearby.
Riderwood - CCRC in Silver Spring, Md., by Erickson is an example of a community having programs with a local community college (verify).  Large, active community with apartment-styled units.   Entrance fee and monthly fee.
State-Funded Colleges
Reminder:
Most state-funded colleges allow seniors to audit classes for free or discounted as space available.  Ask the college to find out what they have for seniors.   
Viewed the most:
The Forest at Duke - NC
Longview at Ithaca College - Ithaca NY
The Pines at Davidson - NC
Addington Place at College Harbor, St. Petersburg, Fl.
---
Back to Top of Page
College Linked