Public Libraries Are Essential Resources for Seniors

Orginal article by: Bestguide-Retirementcommunities.com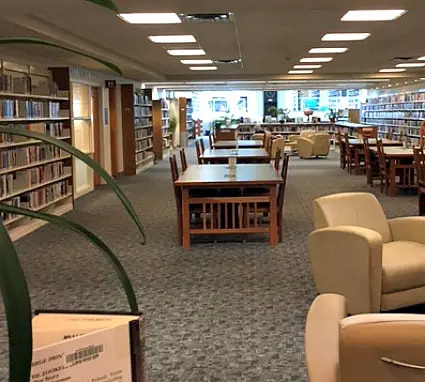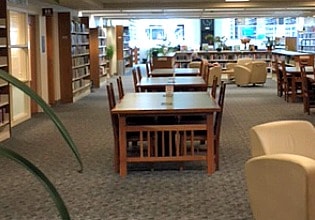 Introduction to Public Libraries as Essential Resources for Seniors:
Maybe you're an avid reader, and, when you were younger, you fantasized about the day you would retire and then spend your days visiting the public library, checking out as many books as you like, and actually having the time to read them.  Or, maybe you've never been one to enjoy reading for pleasure, your library card expired years ago, and the library is not a place you see yourself spending time.  Most people are probably somewhere in between these two extremes, but we still tend to largely associate libraries with one main activity: reading.   
However, if you've been to your local public library recently, chances are that you are aware that public libraries are  essential resources for seniors.   Your local library is not just a place to read books but has become a place to explore, discover, and connect with a vast world of library programs for seniors, activities, public library services for seniors, and information.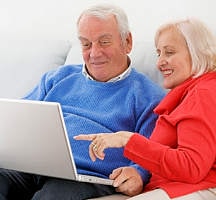 The Internet can be a horrific mess of misinformation, and is a quickly changing environment. It not only commonly misleads the people who use it, but it is becoming more and more confusing to navigate.  As soon as you figure out how to use one online tool, it changes, updates, or disappears entirely.   Or you are bombarded by a stream of advertisements that disturbingly know what types of products you might want to purchase. 
Libraries and Librarians as Resources for Seniors
But the library and its librarians serve as:
Teachers to help seniors (and anyone) navigate the vast world of information, whether seeking a specific piece of information, or more general guidance about browsing or searching.
In addition, libraries usually provide many opportunities to learn about new technological tools, and find new communities, experiences and activities. 

Some libraries are more well funded than others
Library services vary dramatically depending on your location and your local library's budget. Public libraries are funded by varying combinations of federal, state, and local dollars, but for most libraries, the vast majority of funding comes from annual budgets, allocated by city, county, and/or property tax allocations. This means that communities with different levels of local tax flow and service priorities can have different levels of support, services, and activities at their public libraries. 

In general, libraries in rural areas are less likely to have as many services as libraries in urban and suburban areas, but even if you live in a rural area and you haven't visited a county library recently, you should stop in, or visit their webpage, and see what new services they might have added.

=====================================
Contents
In each of the sections below, this article describes some of the general services and resources for seniors you can expect from your local library, as well as some specific examples from libraries across the U.S. The information is grouped into three categories:

Technological Services and Support

Research Tools

Free Classes, Meeting Rooms, Activities, and Entertainment
========================================
Technological Services and Support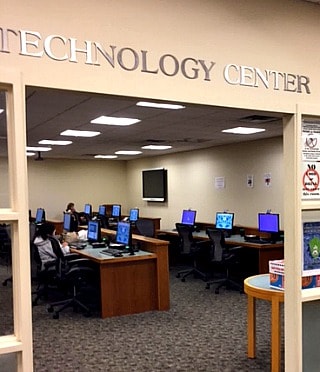 library Technology Center room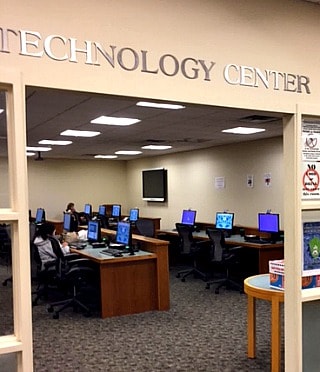 library Technology Center room
No matter how old you are, the fast pace of technological change in our current age is overwhelming.   Seniors who are not "digital natives," a term often used to describe the generations who are fluent in the "language" of digital technology because they grew up with it, can sometimes feel left behind by the flow of cultural change as it is influenced by technological development. 

See this chart of the Generational Changes:
---
Table 1.
Timeline of Cultural Generations in the U.S.: 1948 to the Present 
Generation Name

Baby Boomers (Silent Generation)  

Generation X (Latchkey; Echo Boomers)  

Generation Y (Millennials; some Digital Natives)   


Generation Z  (Post- Millennials; Digital Natives) 

Birth Period

Early 1980s to Early 2000s 


Early 2000's and beyond 

For further reading, see Wikipedia's "Generation" and Philip Bump's "Here is Where Each Generation Begins and Ends, According to Facts" in The Atlantic (March 25, 2014) 

---
For those who were "hold outs," and refused to adapt to the Internet age for a long period of time, the learning curve is especially steep, and feelings of frustration or even embarrassment are common. But with the right guidance and support, you can quickly and easily learn to use some of the most up-to-date Internet tools and library services through staff and programs at your local library.

Even if you are a technology pro, however, chances are your local library has some exciting new tool that you can practice using.  

Librarians love their work helping you
with the latest tools
No matter where you fall on the spectrum of technological fluency, you should know that librarians are overjoyed to help bring you up to date on how to access the information you need. Many seniors find it much easier to get help from the information professionals at libraries.
Librarians are trained to help library users of all educations, backgrounds, and abilities with all varieties of information and technology needs.
1. One-on-one help and support from a reference librarian 
In most public libraries, reference librarians are required to have a Masters degree in Library Science and have done extra work in understanding the subtleties of interacting with library users in a courteous and respectful way. 2 Parts:
They do their best to understand what kind of help you need, 

and then decide how much hands-on guidance will be best to get you started without being too nosy or invasive.
They are information professionals, and this means they are not only
In general, nothing makes librarians feel better than being successful in helping a patron and older adults find the information or services s/he needs. 
2. Public library classes in all levels of technology use
In addition to one-to-one help from the reference librarian, most public libraries offer computer classes. You might choose to simply attend one class one time, or begin attending the classes regularly.
Sachem Public Library in Holbrook, NY, for example, offers group classes in all levels of Excel, iPhone/iPad, Android, Photoshop, Virtual Reality, Hoopla (how to access free movies, songs, audiobooks, and TV Shows online using your library card), and even TinkerCAD to learn how to design and print 3D models on their new 3D printer. 

Similarly, the St. Louis Public Library in St. Louis, MO, has a "Computer Training" search filter on their webpage to help users find classes in use PowerPoint, Word, Excel, and basic Internet connectivity.

The "Computer Help" page on the Multnomah County Libraries website (Portland, OR area) shows many of these same standard computer classes, including walk-in hours for any kind of computer help, and help learning basic computer programming. 

So, whether you need help learning how to use your iPhone, learning how to watch a movie on Netflix, turning on a computer, or exploring the latest 3D printing technology, check out the public libraries in your county and see what classes they offer.

3. Free Wi-Fi and Use of Library Computers
Maybe your computer is ancient and you just don't have the money to keep updating it. Or maybe Internet access at your home is slow or nonexistent. Or perhaps you simply want to use your new iPad in a place with free Wi-Fi where you won't feel pressured to buy a coffee or donut.
Many older adults either do not have a computer because they don't know how to use it or their retirement community does not have a computer room for help.  Chances are, your local public library is a wonderful solution. Most public libraries now have computer labs, where patrons can sit down at a well-functioning computer and check email, do research, watch a movie (with headphones), or read the news. 
Printing services are also available, usually for a nominal fee. Many libraries may have time limits on computer use. The Charlotte Mecklenburg Public Library, for example, in Mecklenburg County, North Carolina, is a fantastic urban library that serves a community of more than 1 million citizens. They advise users to reserve computer time ahead of time, and permit up to two 60-minute sessions per day, or, if the session is being used for a job search, up to 3 hours.
 The McAllen Public Library's Main Library Computer Lab in McAllen, TX has 101 computers in their main adult lab (not including the computers in the children's and teen areas), and they allow up to three hours of use per library card holder per day.  There is no time limit on Wi-Fi use, however, and, if you like, you can bring your smartphone or tablet or laptop to the library and use it all day for free. 
4. Other Public Library Technology Services
In addition to computer labs, printers, and free Wi-Fi, many libraries also have scanners, Personal Assistive Hearing Devices at movie showings, Document/Text Enlargers, photocopy machines (black and white or color), device charging stations, fax machines, digital display screens for collaborative projects, and even convertor machines that can convert your old cassette tapes to CDs, LPs to CDs, or VHS to DVD. All of these services are provided to you for free or for nominal fees. Indeed, your local public library is a one-stop paradise for technological services and support! 

Research Tools
In addition to being the central technological support and service center to the local community, libraries are, of course, research centers.
Google Search
Unfortunately, many people think that using a search engine such as Google is the only way to look for information in the digital age. In many cases, Google provides the user with all the information they need, whether it's a quick check-in with information on Wikipedia, the phone number for the local pizza place, the latest news headlines, or directions to the movie theatre.  
However, when searching for accurate, authoritative, current, and reliable information on a specific topic, search engines such as Google are often not enough. 

Research Databases--Check their websites for what they offer
Library website page showing database directory.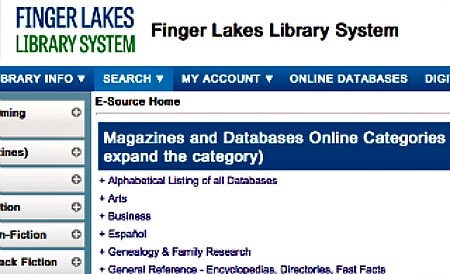 Library website page showing database directory.
Library Barcodes Gives Access to Databases
Access to research databases, which are essential for finding reliable peer-reviewed articles and other information sources, is often expensive and difficult to come by.   Using your library barcode, however, you have instant free access to all of the databases that your local library subscribes to. 
Genealogy Research
Sometimes you can access the databases from your home, and sometimes you need to be using a computer in the library itself.  There are thousands of databases out there, and every public library is different in which and how many databases it subscribes to, but most public libraries will at least have access to databases useful in:
Doing genealogy research 
Looking through historic newspapers  
Researching health-related questions and concerns 
And at least one interesting resource in each general field of study. 
Ithaca Tompkins County Public Library
For example, the Finger Lakes Library System's Ithaca Tompkins County Public Library has a list of about 30 databases they subscribe to, some of which can be accessed from home. Some examples of the resources provided by this library are the Art Museum Image Gallery, where patrons can view thousands of high quality art images from varying cultures, regions, and time periods, the Business Insights: Essentials database, which patrons can use to research companies and investment reports to help them make informed investment decisions, and Mango Languages, a service that provides access to a language-learning system for dozens of world languages. 

Without the library, all of these services would be a significant expense for the private citizen. It is only through our community libraries that we can access these amazing resources for free, and educate ourselves to learn, grow, and become better citizens of our communities, our country, and the world.

Visit your local public library system's webpage to see what wonderful resources are available to you!
Free Classes, Meeting Rooms, Activities, and Entertainment
In a time of stagnant wages and expensive leisure-time activities, many libraries are increasingly becoming vital and vibrant community centers with a staggering amount of programs and activities for seniors.  In addition to programs encouraging literacy and technological competence, libraries provide free wellness classes, fun bus trips and activities, and entertainment galore.
They offer both indoor and often outdoor spaces for community meetings, movie showings, concerts, and classes.
A quick sample of some of the many possibilities available out there shows that if you haven't visited your local library lately, you're missing out of loads of fun and free activity.

1. Classes for Seniors at Public Libraries
Did you ever want to take up knitting? Learn to garden effectively? Meet with people who share your interests in weekly book club meetings, movie showings, or cooking classes? Take a beginning yoga class for seniors in a low-pressure environment?
You would be amazed at the range of classes and clubs offered at your local public library.  The list of classes offered by Pikes Peak Library District in Colorado Springs, CO shows classes as diverse as Qi Gong, French, and Regional History. 
The Orange County Library System in Orange County, FL has an impressive database of searchable classes. A few examples of the classes they offer include knitting and crocheting at various levels, cooking, painting, and paper folding. Like on many library websites, you can filter your search by clicking the "adult" box, or the "senior" box so that you remove classes directed at children, teens, and parents. If you don't see a class you're interested in, make a request or team up with a friend and start your own class or club for free!

The Port Washington Library in Port Washington, NY, profiled on our website, is immensely popular with seniors and the wait lists for economically-priced exercise classes is on a lottery.   Or you can just sit on a balcony in one of the many cozy seating areas with views of the Port Washington Harbor.  This library is an asset to the community so much so that it may increase the value of surrounding neighborhoods.

Sometimes you may have to be a resident of the county to participate at some libraries for in-demand classes.

2. Meeting Rooms and Other Spaces Free or to Rent
If you're not interested in attending any of the classes sponsored by the library, you can reserve a private room and have your own meeting in them. 
Depending on the activity, some libraries offer these rooms for free, and others for a reasonable fee. The Duluth Public Library in Duluth, MN has a Meeting Room webpage that shows all the rooms they have available, the capacity, supplied equipment, and fee for rental. The "Gold Room," for example, has a capacity of 35 people, up to 6 tables, and costs $55 for up to 4 hours.  Other libraries have smaller conference rooms or meetings rooms that they provide to library patrons for free.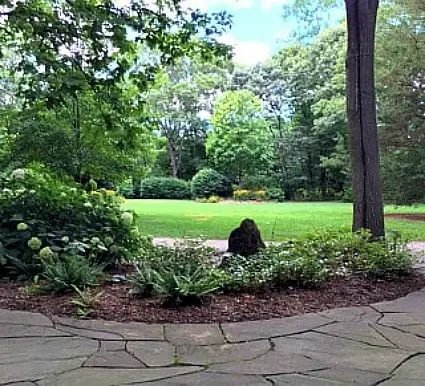 Library "Inside/Out" Area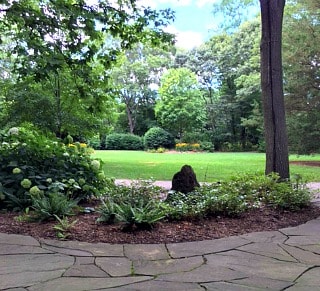 Library "Inside/Out" Area
Some libraries are even beginning to enhance their outdoor spaces. Sachem Public Library in Holbrook, NY offers a beautiful landscaped space they call "Inside/Out," where there are paths through a small garden, benches for sitting, reading, or talking, and a large grassy area for outdoor concerts or movie showings.
Senior Spaces
Many libraries now have private rooms that are quieter and away from the general activity of a library for a senior space where one can work or read without distraction. 
3. Other Activities and Entertainment Programs at Libraries
Museum Pass Programs
If you're looking for more than in-house classes and meeting spaces, your local library might offer access to an assortment of opportunities at local museums and concert venues. In urban areas or suburban areas near large cities, there is a program often called "Museum Adventure," where you use your library card to "check out" passes to local museums that would ordinarily charge an entrance fee.  On their "Museum Passes" page, the Plainfield Public Library in Plainfield, NJ lists museums patrons have access to using their library card, including the Brooklyn Botanic Garden and the Intrepid Sea, Air, & Space Museum.
Libraries in metropolitan areas across the country offer countless passes to hundreds of museums and parks. Typically, you reserve the pass for one day, check it out with your library card, and then you must return the pass by the next day or there will be a hefty fine ($20-$60). 
Bus Trips
In addition to museum pass programs, libraries usually provide bus trips into the city or to other experiences for patrons who can not drive, or would rather not drive themselves.  Sometimes the libraries will also offer group excursions on public transit, so that a community group can travel on the train together, and then go spend a day in the city however they like. 
For example, the East Islip Public Library describes this opportunity as a "Train Trip." You pay $10 (for what would normally be a $40 roundtrip ticket) at the public library, and then you meet at the train station platform, get your ticket from the library representative, and travel into the city on the 8:58am train. You can spend the day in New York City in any way you see fit, and return on any train you like!
====================================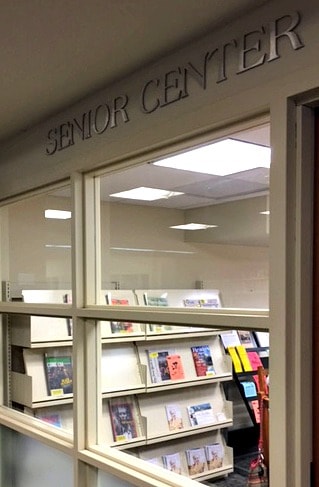 Senior Center room at library for socializing.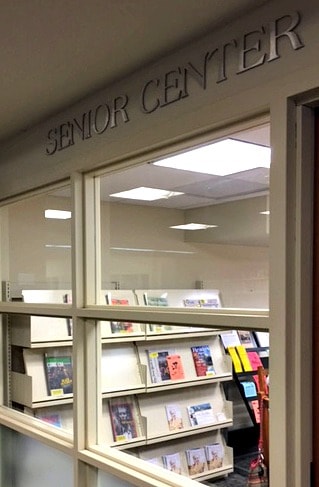 Senior Center room at library for socializing.
Essential Library Resources for Seniors
Needless to say, public libraries are an essential resource for all community members, but can be especially helpful for older adults on fixed incomes who are looking to:
Educate themselves 
Meet some friends 
Learn about a new technology 
Have a little free or inexpensive fun 
Unless you live in an isolated rural community, chances are you have a variety of public libraries within a half hour drive of your house, and you are a member of a local library system (often within specific counties).
Interlibrary Loan
You can use your library card, for your specific branch, at any library within the larger system. You can even check out books from other libraries using a system called interlibrary loan. 
Today's Modern Public Libraries Offerings
Embrace, explore, and discover what your local library and library system have to offer. You will find anything from a clean and quiet space to get free Wi-Fi access, to your passport to a city adventure, classes on anything and everything, many library programs specifically for older adults, genealogy discoveries, or free movie showings.

======================================
Public Libraries listed on this page:
Sachem Public Library, Holbrook, NY
St. Louis Public Library, St. Louis Missouri
Mullnomah County Libraries, Portland, Oregon
Charlotte Mecklenburg Library, Charlotte, North Carolina
McAllen Public Library, McAllen, Texas
Ithaca Tomkins Public Library, Ithaca, NY
Pikes Peak Library, Colorado Springs, Colorado
Orange County Florida Library System
Port Washington Public Library, Port Washington, NY
Duluth Public Library, Duluth, Minnesota
Plainfield Public Library, Plainfield, New Jersey
East Islip Public Library, Islip, New York
---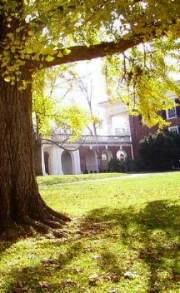 You may also like:  Universities with linked retirement communities
---
Public Libraries for seniors