Retirement Community Builders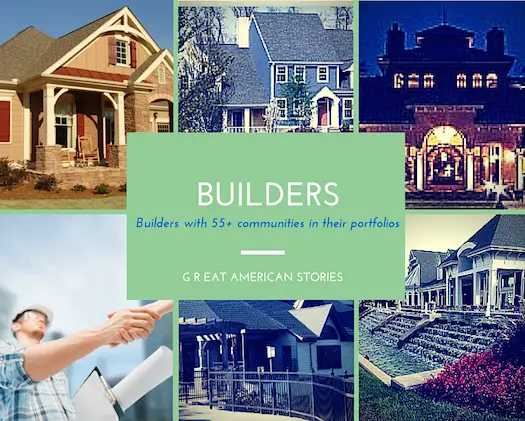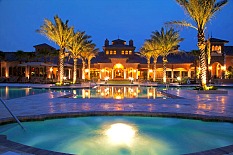 Del Webb Ponte Vedra pool
Here is a list of some of the major retirement community builders/developers of over 55 communities. We cannot make recommendations as you must always do your own research in selection of builders.
Go to their websites to see their entire collections.  After you find the builders in the area of interest, get on their mailing list or contact them for upcoming communities for 55 plus.  Most have only one or a few 55+ communities and some builders only build age-qualified communities.

Developers/Builders ask: What do boomers want in the current market?
Communities near good commute lines to employment centers from the suburbs and rural areas
Homes in the suburbs and rural areas
Homes with room for an office as more work from home
Smart homes
What problems do homebuilders have and how do they solve them?
Past History (during the downturn)
The homebuyers problems are the homebuilders problems.  The job of the homebuilder is to build homes for people and help them buy.   No matter what the market is, homebuilders must meet the challenges to survive. 
During the downturn this was the situation (but no longer):
Homeowners found it harder to sell their main home. Builders have stepped up with assistance programs in that area.  

Builders were still competing with abundant foreclosures.  
Both builders and homebuyers found it harder to get financing and qualify in a poor economic climate.  
Builders Solutions in the past market:
Many builders offered buyers powerful incentives to buy such as free luxury features and optional items and financing incentives.  These incentives decrease when times are good. 

There were frequent appraisals which necessitated price adjustments to keep up with shifting market conditions.    

Creative buyer financing.

Offering communities and features that appeal to buyers such as smaller floorplans that cost less.

Better marketing and customer service. 
The situation today (2021)
It is a very strong seller's market.  Builders aren't building enough inventory to keep up with demand.  Prices are ever-increasing.  Homes are being purchased online even before being seen.  The pandemic has changed the way buyers buy homes. See my article about changes in purchasing homes. When will things improve and we will see a "normal" market.  Most people hope soon since more and more are being priced out.
It's interesting to see the contrast between the way things were only a few years ago and how they are today. 
Our Most Precious Asset: Our Home
Think about it!  America's homebuilders are charged with the task of building our most valuable asset: our home.  We are lucky to have great builders with great entrepreneurial spirit.  
List of Builders:
Largest and/or National 
Dell Webb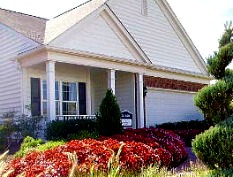 A division of Pulte Homes. Over 50 years experience building homes throughout the U.S. The largest of the over 55 retirement community builders, also called active adult communities. Offers reasonably priced 3-day Discovery visits.
THEY BUILD IN: Florida, California, Nevada, Arizona, New Mexico, Colorado, Texas, Georgia, S Carolina, N Carolina, Tennessee, Virginia, Maryland, New Jersey, Massachusetts, Connecticut, Ohio, Michigan, Illinois, Indiana, Missouri, Pennsylvania, Minnesota 
Del Webb
---
K Hovnanian Homes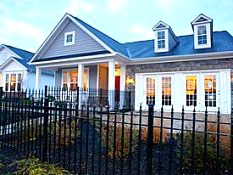 Active Adult Communities are called Four Seasons. Since 1959. Builds resort-at-home communities for a country club lifestyle. Throughout U.S. KHovnanian is brother to JSHovnanian Homes but separate companies.
THEY BUILD ACTIVE ADULT HOMES IN: California, Arizona, Texas, Delaware, Maryland, Florida, Georgia, South Carolina, New Jersey, Illinois, Ohio, Minnesota, North Carolina, Virginia, West Virginia 
K. Hovnanian Homes 
---
Brookfield Homes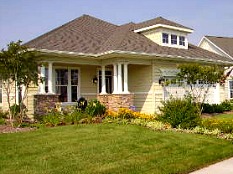 Providence by Brookfield Homes is the active adult contingent. Since 1956. Offering many design options to the buyer for a custom look and feel.
THEY BUILD ACTIVE ADULT HOMES IN: Currently in California, Delaware, Texas, Colorado, Maryland, Virginia
Brookfield Homes
---
Lennar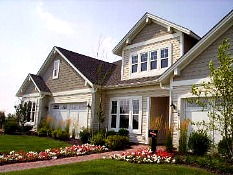 Developer in 23 different states, headquartered in Miami.  Founded in 1954.  THEY BUILD ACTIVE ADULT HOMES IN 23 states.  Lennar Active Adult
---
Beazer Homes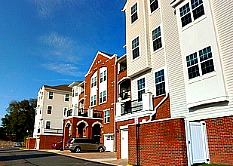 Based in Atlanta, Georgia - 16 states and over 50 years as a builder - their active adult series is called "Gatherings," which are mostly low-rise elevator building with active adult living on one level.  Beazer Homes

---
Ryan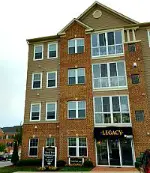 "Welcoming Families Home for Over 50 Years." They call their over-55 communities "Legacy" or "Hearthstone."  They have a good-size portfolio of communities in 15 states for adults 55 and better.  Ryan Homes

---
Erickson Retirement Communities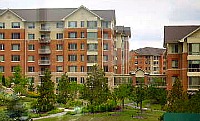 Age 62+ - continuing care apartment communities in Colorado, Midwest, East Coast, and Texas.  Many have assisted living options as well as independent living. 
Erickson

---
Shea Homes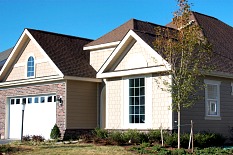 Major builder of Over 55 communities called Trilogy - 125 years beginnings in Northern California. One of the largest private homebuilders.  Among the first to have day spas, fitness centers with personal training, and restaurants with Executive Chefs and organic food.    
THEY BUILD ACTIVE ADULT HOMES IN:   California, Florida, Arizona, Nevada, Idaho, Washington State, Virginia, South Carolina, Texas, Phoenix area and North Carolina.     
Trilogy Life by Shea Homes
---
GL Homes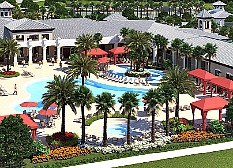 Leading builder in Florida and other areas.  55+ series is called Valencia.  GL Homes

---
Traditions of America
TRADITIONS OF AMERICA  builds exclusively for over 55 throughout Pennsylvania.  A few in Richmond, Va. and Columbus, Ohio.
---
David Weekley Homes   Largest private builder in U.S. - Builds in Ga., Texas, Florida, NC, SC, Colorado, Illinois, Indiana, TN, Arizona, Utah.  Currently building in 25 cities overall.  DAVID WEEKLEY HOMES

---
D R Horton - Largest builder in U.S. by volume building in some 26 states nationwide (verify as can change) and has some over 55 communities. Main office is in Fort Worth, Texas.  Freedom Homes is their 55+ builder but they build 55+ communities under their banner as well.   D R HORTON 

---
TAYLOR MORRISON HOMES

National home builder in 10 states which include Arizona, California, Colorado, Florida, Georgia, Nevada, North Carolina, Oregon, Texas and Washington state.  Frequently has 55 plus communities.  Upscale and usually in great locations.  Acquired AV Homes and Acadia Homes.  Taylor Morrison
---
TOLL BROTHERS - "America's luxury home builder." Upscale homes. Large 55 plus portfolio in 24 states and DC.   Toll Brothers

---
ROBSON COMMUNITIES - Retirement communities in Arizona and Texas. Active adult resort living. Send for beautiful DVD or video. Wonderful "visit" packages. Robson

---
CENTEX HOMES - Another of the major retirement community developers with 50 years of home building experience and has now merged with Pulte. 
Centex Homes

---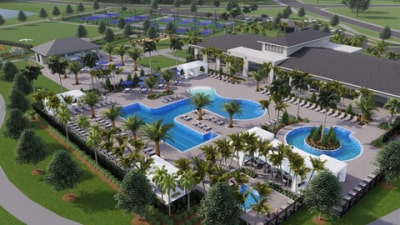 Cresswind Palm Beach, Florida
KOLTER HOMES - 55+ communities are called Cresswind.  Communities in Florida, North Carolina, South Carolina and Georgia.  Kolter Homes

---
KB HOME Based in Los Angeles with more than 50 years experience. Builds coast-to-coast in 9 states. Some innovations are homes with Martha Stewart designs and the Open Series which features smaller and more flexible homes. KB Home

Meritage Homes Based in Scottsdale, Ariz - Large builder builds homes in Southern and Western states.  Meritage Homes  
VI LIVING  (Formerly Hyatt Classic Living) - 10 upscale rental and care communities located in six states in some of the best places for retirement. Now called "Vi." Vi Living 
MCKEE BUILDERS Operates in Pennsylvania, Delaware, New Jersey and Maryland for 60 years. McKee Builders
NV HOMES Luxury homebuilders of single family homes and villas since 1979. Over 55 communities are called Dolce Vita. Has communities in Maryland, Pennsylvania, Virginia and Delaware. NV Homes
More retirement community builders with a portfolio of over 55 communities:

Northeast/Mid Atlantic
MD/PA         ADMAR HOMES - Builds in Maryland and Southern Pennsylvania.
Delaware      Benchmark Builders - Delaware  
PA/DELAWARE    BLENHEIM HOMES - Since 1982 - trust is an              important word to this builder and communication.                      We agree that customer service is a key ingredient                        in the building process.

New Jersey    BOB MEYER - 40 years building in Southern New Jersey.  Check status.
MD/PA          BOB WARD - Metropolitan Baltimore, Maryland and                      Pennsylvania.
Connecticut   CARRIER

Mid-Atlantic   BOZZUTO - Mid-Atlantic area Bozzuto Homes
Maryland       CARUSO HOMES
Fl/NJ/PA         DELUCA 43 years - Florida, New Jersey and      Pennsylvania. DeLuca
Virginia          CORNERSTONE HOMES - Virginia Cornerstone Homes
Mid-Atlantic   GEMCRAFT HOMES Mid-Atlantic Gemcraft Homes
---
JS Hovnanian & Sons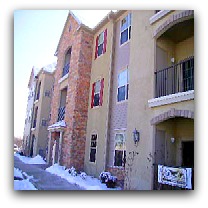 NJ/DEL          JS HOVNANIAN & Sons - New Jersey and Delaware                        JS Hovnanian
---
IDI Group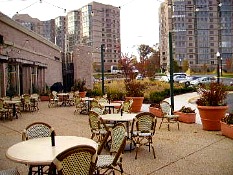 Maryland and Virginia (Leisure World) IDI Group

---
Virginia      OAK CREST BUILDERS - Virginia

PA/DE         WILKINSON BUILDERS Pennsylvania and                                        Delaware - Wilkinson Builders

Long Island NY BEECHWOOD HOMES - Award-winning builder on Long Island.
Long Island, NY ENGLE BURMAN
Long Island, NY NORTHWIND GROUP - Builds on Long Island, NY

---
DE/PA  McKEE - Delaware and Pennsylvania
PA       TRADITIONS OF AMERICA - Builds exclusively for over 55               throughout Pennsylvania.

PA       PENN HOMES
Starvou Associates Builds over 55, affordable, and senior living communities in Maryland in Prince Georges and Montgomery counties.   Stavrou
Thorndike Development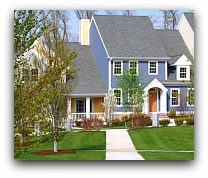 Photo by Thorndike Development.
Massachusetts - Quality upscale homes Boston area and suburbs. See our review.
Thorndike Development

---
Builders in Florida/South/Southeast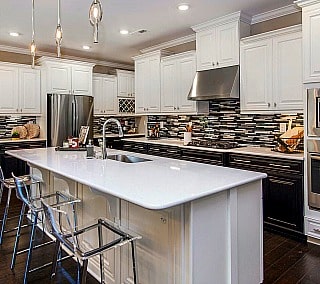 FL/GA/SC/NC   KOLTER HOMES - 55+ communities are called Cresswind. 

---
Florida         ANSCA HOMES - Family owned developer of luxury                       homes and apartments in Florida.
Florida         ARMSTRONG HOMES - Ocala, Florida Armstrong Homes
Florida         BLAIR COMMUNITIES - Florida custom homes and manufactured homes communities Blair Communities
Florida         CRF COMMUNITIES - Florida CRF Communities
Florida         ERNIE WHITE CONSTRUCTION
Florida         ON TOP OF THE WORLD COMMUNITIES Florida On Top of the World Communities
Florida         MINTO - Builds luxury communities throughout Florida.
Atlanta
Atlanta           MILLARD BOWEN COMMUNITIES - Atlanta homebuilder -                            Bowen Homes
Atlanta         JIM CHAPMAN COMMUNITIES
Atlanta          ORCHARDS GROUP
Atlanta          O'DWYER HOMES Atlanta O'Dwyer Homes
Atlanta          WINDSONG PROPERTIES Atlanta area  Windsong Properties
West
Texas    VILLAGE BUILDERS  Houston, Dallas, Austin, San Antonio
Texas    GRENADIER HOMES
TN/MS/COLORADO  KW COMMUNITIES - low maintenance homes geared to empty nesters by Kemmons Wilson.

Arizona
Phoenix/Tucson  TRI POINTE HOMES - Now also in California, Colorado, Washington State, Nevada, North and South Carolina, Kentucky, DC, Virginia, Maryland, and Texas.  Occasionally has 55 plus communities.
Oregon/Wa        STONEBRIDGE (has some multigenerational homes)
Please take the time to read the history of these retirement community builders usually found on their websites. The pride in their product and dedication is very evident. Besides being interesting, you can see that most homebuilders have contributed so much to our happiness and comfort in our homes and the responsible development of our land. We thank them for that.
This is not a complete list.
Please verify all above information as it changes often. Also, always do your own inspections. We refer you to builders for your convenience and information only and give no recommendations or even opinions.  Always consult with your real estate professionals especially before any purchase.
Top of page