Port Washington
Retirement-
Port-Washington-New York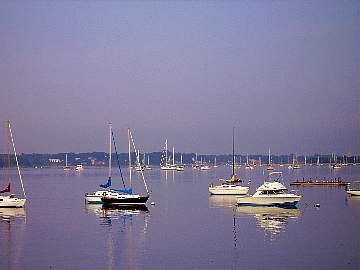 Views of the beautiful Harbor are everywhere
An interesting town for Retirement-Port Washington-New York--on the North Shore of Long Island, Nassau County, on The Sound, the Gold Coast, and about 20 some miles to New York City.
We don't know if this would be considered a destination retirement town, but it offers outstanding retirement amenities for seniors and baby boomers. The year-round climate is not like Florida but most Northeasterners don't retire here for the climate, but to be close to family.   Many then have second homes in Florida or in a warmer climate in winter.   However, I personally find Long Island in spring, summer and fall fabulous.
Retirement-Port Washington-New York:
First of all, in Port Washington everything is convenient. There are hospitals, farmers markets, boating, fishing, beaches, village center with restaurants, very large and beautiful library, things to do, shopping, museums, trips to New York City and much more.
It's difficult to get bored here.  It has a couple of very unique features.  Here is one:

The Train Station
The train station right in the center of town goes directly into NYC and ends at Penn Station. When returning, the train comes from NYC and ends at Port Washington-so easy.   And best yet, the fare is only $4.50 one way for the 30-minute ride to NYC.
More features that make Port Washington, NY a great retirement town:
There is a development for seniors that is outstanding called Harborside. (see description below)
Here there is a public golf course called Harbor Links. The fees are reasonable yet the course looks every bit like a private club with beautiful ambience.
 For me, the best part of Port Washington is being so close to the water. If you don't have a boat moored here, you can still walk down to the docks and sit on the public benches and be invigorated with the same smell of salty air that the boaters enjoy. 
The harbor is where they have the weekly farmer's market.  They have a weekly outdoor concert at the "band shell."  
There are two very active senior centers in Port Washington.  
Other surrounding towns in Nassau County are equally attractive to enjoy the amenities of this area which include ocean beaches on the South shore and the Sound beaches on the North Shore. They are:
Roslyn, Great Neck, Sands Point and Glen Cove, to name a few great North Shore towns.
F Scott Fitzgerald lived in this area as well as many other celebrities and wealthy who still do today.  The history of this area is fascinating as it is here that the rich flocked to for their summer or permanent homes close to the City.
"So we beat on, boats against the current, borne back ceaselessly into the past." F Scott Fitzgerald - last line from "The Great Gatsby" set in Great Neck, NY where he lived at the time of his early success.
Some tourist attractions are the castles built by the rich and museums in Great Neck and the Retreat of St. Ignatius.  
The Library
The library on the hill has a view of the harbor and Main Street.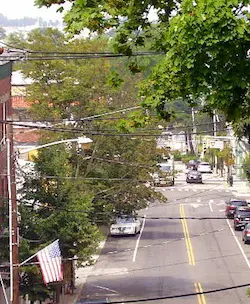 Its location in the center of town with a view is great but that is just one of the outstanding features of this library.  Check out the Event Calendar.  It is chock full of stimulating courses and activities to keep one active.  Two current senior programs are the "Exercise for Over 50," a program so popular they had to go onto a lottery system for signup.  The other outstanding mention is the job and career workshops.   The library also now has a software program to help you write a professional resume.
(Please verify all information as this is a dated article.)
Yacht Clubs
There are some impressive yacht clubs here for sailing on the Manhasset Bay and the Sound. These clubs have private dining, pools, yachting, tennis etc. right in town. Kayaking is huge and you can rent them or buy. 
Fishing
Fishing, well, when we were at the dock, we saw people taking their catch off their boats - good size bluefish that day.
Farmer's Market
At the farmer's market, conveniently located at the harbor, we bought scallops, striped bass and halibut direct from the fisherman and it was the freshest seafood I have tasted in a long while.
Restaurants
So Many and Varied Restaurants in the historic town, you could dine out every night.  While we visited here, we enjoyed breakfasts at Port Washington Diner and the Mediterranean Marketplace restaurants, authentic Italian pizza at Salvatores and the sweet Italian ices at Ralph's in town.  
Long Island produce abounds in the fabulous North Shore grocery stores of Northbay Farms, Whole Foods and Giuseppes.  We shopped at the Miracle Mile so nearby off  25A - an upscale shopping extravaganza.
Retirement Communities
The Amsterdam at Harborside (photo when under construction):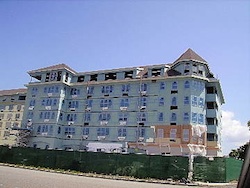 Located in Port Washington, this is a luxury development of independent, assisted living and life care all in one great package. This upscale community is very popular. Check status of wait list with community. (Verify all information as this is an older article.)
There is an entrance fee and a monthly fee. There is a nice feature that if you move in, change your mind within the first year, your entrance fee is 100% refundable. (verify as this can change).   After that, there is a schedule of how much is refundable on how long your residence was there.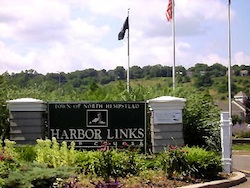 You receive a continental breakfast and one major meal per day (lunch or dinner.) There are wellness programs and many outstanding amenities.
It is adjacent to the Harbor Links golfcourse.
Owned by The Amsterdam nursing home in Manhattan, a 135-year-old institution. Developer is Greystone Communities.
New York State regulations are some of the most stringent in the Nation and there must be deep financial backing to develop a life care community.  New York state only has 8 life care communities. This community is in the Barbeach/North Hempstead area across from beaches and festivals and Port Washington address.  Stop by and see the friendly Sales Manager, receive a beautiful brochure packet and maybe make this your next home.  (please verify all information). The Amsterdam at Harborside.com
Within the development there is also an over 55 community for home purchase called Harbor View, if you prefer.  The Amsterdam age starts at 62+ and the averge age is 76.
Over 55 community next to the New Amsterdam community and adjacent to golf course.  Another luxury community in the Harbor View development which consists of 145-unit high rise condominium building and ranch homes - sold out but there are resales available. 100 Harbor View Dr.  See your local Realtor for access as this community is gated.
Port Harbor Condominiums 
Port Washington 372 Main St 944-3595 - Resales - see local Realtors - also check for rentals if available.
Mill Pond Acres - 277 Northern Blvd Great Neck NY 487-0041 - townhomes and ranch homes, clubhouse, jitney, tennis
Dolphin Green Apartments
Located next to the harbor with views.
Nearby Port Washington-New York area communities:
Regency at Glen Cove 
Glen Cove Independent and Assisted Living Regency at Glen Cove
Woodbury Cove 
Woodbury NY  
See our long Island page for complete list of retirement communities.
Low Cost Housing
Finding low cost housing on Long Island can be a problem - If you own a home here, you can sell your home and use the equity to purchase a retirement home. About 1/3 to 1/4 or more occupants are from local neighborhoods.
The property taxes are high in Nassau County and more and more seniors are selling their long-time homes because they can't afford them.  This sad situation opens up the market to new residents, but paying property taxes can be a problem for seniors already here.   See the list of low income properties for Long Island residents in Suffolk County.  Nassau County also has outstanding resources for seniors in Nassau County.