Riderwood Maryland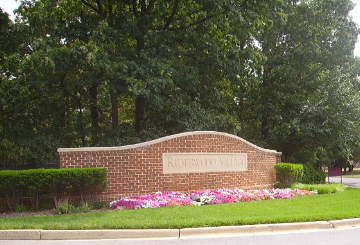 I telephoned Riderwood Maryland by Erickson Communities, located in Silver Spring to see how I could visit and review it.   They suggested I make a reservation to attend their marketing luncheon and have a free meal. This is the main way they introduce you to their community.  Erickson communities fill up quickly so the idea was to review Riderwood, and, if I liked it, to get on the Priority Wait List with a refundable deposit for an apartment home.

Activities
Card Playing Clubs are popular
Riderwood Maryland, and probably all Erickson communities, are liked in part for their long list of activities. 
At this community, card playing clubs are very popular and there are many.  Other communities will have different activities according to what their residents want.
The activities are driven by the residents so that none of the communities are exactly the same.  Card playing is a very popular activity here.
There is a connection at this community with the Prince Georges Community College. They come to Riderwood to give the residents college classes that they sign up for. There are also many trips to DC and surrounding area attractions, activities, clubs, arts, etc. (verify all information)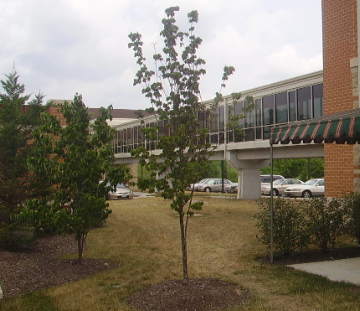 Riderwood indoor walkways
Indoor Walkways
One of the best features of Erickson communities are the indoor walkways. You never have to go outside when it is cold as these walkways connect to the clubhouse restaurants, banks, convenience market, beauty salon, mailboxes and activities.  As I wandered around, I heard many positive comments from residents. 
A Continuing Care Community
Riderwood Maryland is not only an active adult community they also have assisted living and continuing care accommodations, if you ever need it.  Lifecare communities are popular with those planning for the future. The required entrance age starts at 62.
They encourage seniors to reside there as soon as possible as their wellness programs and activities are designed to help you stay active longer. During our visit, we noticed that there were many active seniors on the younger side (or the early baby boomers.) 
The Tour
The tour was very well organized. There were at least 100 people and we were divided into groups so to enter the dining room at different times. First, there was an introductory speech and instructions on how to view the model homes and then we were taken to the dining room for a delicious lunch.  While dining, there was a sales presentation.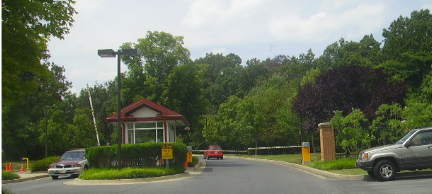 Gated entrance
The Gated and Manned Entrance
First, this is the entry I saw when I found the development...
---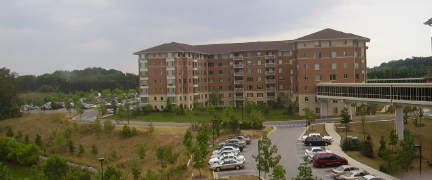 Building and parking lot
I was directed to one of the parking lots.

---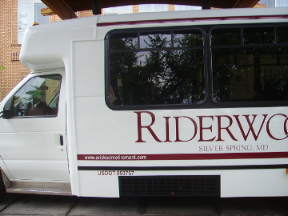 Riderwood campus shuttle
After a short wait, we boarded a shuttle bus to the Clubhouse--the shuttle runs frequently--you are not kept waiting for long. 

---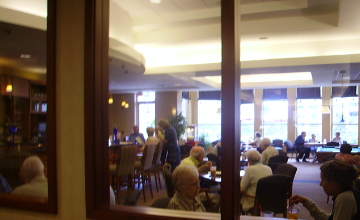 Informal restaurant pub
During the introductory speech, we were shown where things are located including the informal restaurant-pub for casual eating and where the one meal per day may be taken. The pub at Riderwood is a model for other Erickson communities but is not in all of them.

---
Lunch Was Served in the Clubhouse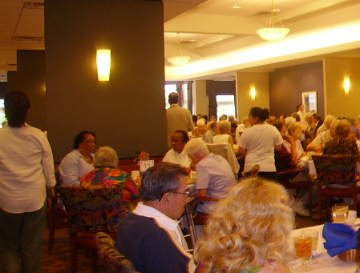 There are four clubhouses at Riderwood Maryland, one in each complex, and each houses a main restaurant area where we were given a delicious 3-course meal.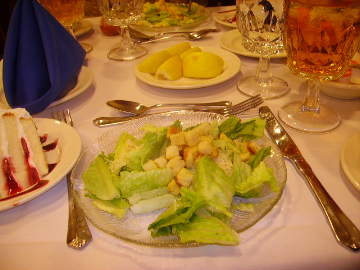 The table setting was elegant and the crystal sparkling. The food was healthy with dressing served on the side, lean chicken, and a dessert of a very light whipped cream iced layer cake with fresh strawberries.

---
Deposit and Monthly Fees
During the presentation, we were told to consider if Riderwood was the right place for us and if it was a great value. We were told to fill out the worksheet given to us to determine this.
We were told that the deposit was fully refunded and the amount related to the size of the apartment. (There are no 100% guarantees on deposits refunded, of course, but we were told they are refunded by the person taking the apartment after us and refunding back to us.)
Deposits range from low $100,000's. (verify all information)
There is also a monthly service fee which included everything except telephone or upgraded cable.  One meal per day is included. (verify). Monthly fees can change.  There is a 2nd person fee as well.
---
Medical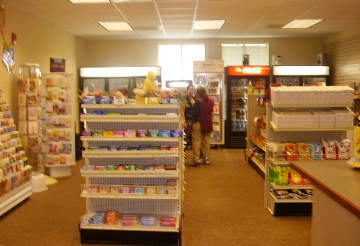 Store inside the building
85% of the residents use the Erickson doctors. The doctors are for Erickson residents only and take only 2 appointments an hour. There is also a pharmacy available. The Fitness Center was integrated with the wellness program and file that goes with you.

---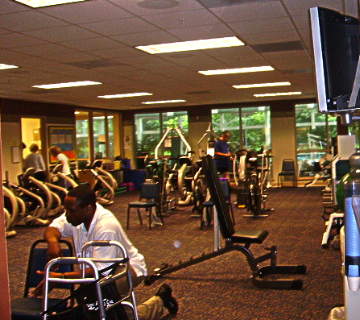 Fitness Center
---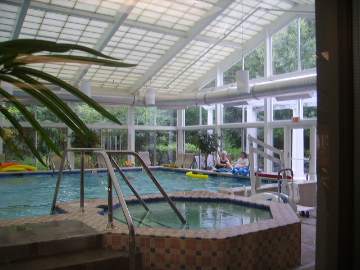 Indoor pool and spa
There is no outdoor pool at Riderwood Maryland. The indoor pool is located next to the Fitness Center in the Village Square building. 

---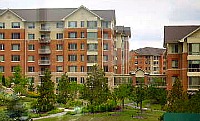 There are 3000+ residents, 1200 staff members of which 500 are high school students helping out (please verify numbers as this may have changed). The overwhelming majority of residents are independent and active and 200 are assisted living or continuing care at Rennaissance Gardens. Please confirm all numbers to be accurate. There is a wait list so it is advised to get on it  if you are interested.  It is $1000 to be on the list, fully refundable or applied to your deposit (verify all information). 
The monthly deposit can have yearly increases. This is common in all communities to keep up with inflation and costs. If you are at some time moved to where you will need more care, your monthly fee would also be higher. Therefore, we were told your financial position is taken into consideration before you move in. Please confirm all information. 
Also important, the residents were very warm and friendly. I felt very "at home" at Riderwood Maryland.
---
Model Home Tour
After lunch, we were directed to tour the model homes.  We saw a 1- bedroom/1 bath, 2-bedroom/2 baths, 2-bedroom/1 1/2 bath, and 2- bedroom/1 bath.   However, there are over 30 different apartment types at Riderwood. 
You are allowed to give your apartment home your personal decorating touches.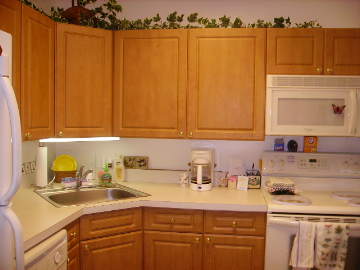 ---
Riderwood is located at:
3140 Gracefield Rd, Silver Spring Maryland 20904
301-495-5700
For more information on the Wellness Program, call 301-572-8333. To arrange a tour, call 301-495-5700. 
You may also request the Monthly activities calendar, a list of activities and clubs, and a map and list of amenities.
You might also like: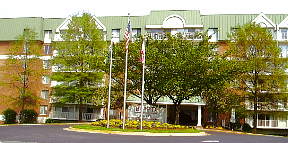 More information about Communities with assisted living and where to find them.
---
We are not associated with Riderwood in any way--this review is for your information only.  Please make your own decisions or seek advice from professionals.  Always check the financial state of CCRC's especially when deposits are required.  Verify all information.