California Senior Apartments
California senior apartments offer a flexible lifestyle for your active retirement.  Enjoy a mediterranean climate year-round in Southern California or 4-season climates in northern mountain areas.  There is so much to choose from.  Wherever you are in California, it is easy to get to other areas.  Two main regions are listed here.  They are separated into North and South because the two regions are very different in climate, lifestyle, terrain, restaurant food choices, recreation, and more.  You can read our description of California Regions.
Separate Pages:
Los Angeles Area 55+ Apartments
Senior Apartments in California for Low Income
---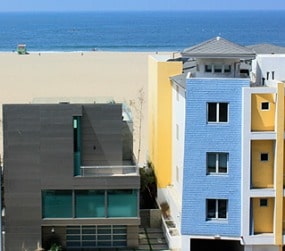 Beach and apartments at Santa Monica
Southern California 55+ Apartments:
Los Angeles:
Los Angeles and surrounding area
(Separate Page) (49)

---
Throughout Southern California:  Many properties by award-winning developer, Meta Housing Corp.  Go here to see their senior housing map:  Meta Corporation Locations

$$/$ Meta Housing communities for seniors in Southern California:
Dorado Senior Apartments - Buena Park, CA 156 units
Valley Village - No. Hollywood - 188 units
Park Plaza - No. Hollywood - 203 units
The Piedmont - No. Hollywood - 198 units
Heritage Park - Duarte - 120 units
Casa Pacifica - Santa Ana - 60 units
Hillside Park - Hemet - 177 units (this is closer to Palm Springs)
Heritage Park - Anaheim - 94 units
Sterling Court - Anaheim - 34 units
Rosewood Parks - Commerce - 94 units (garden style)
Cedar Villas - Ontario
Pacific Villa - Pomona - 132 units
Villa Azusa - Azusa - 147 units - garden style
Jasmine at Founders Village - Fountain Valley - 156 units
Burbank Senior Artists Colony (yes, this is the famous one you have heard about) - Burbank - 141 units
Cortina D'Arroyo Grande - Arroyo Grande - 108 garden style
Ph: 310-966-5077 - 1640 S Sepulveda Blvd, Los Angeles - main 
---
More Southern California Areas:
Costa Mesa   |   Laguna Woods   |   Ladera Ranch   |   Escondido   |   San Diego   |   Westminster   |  Torrance   |  San Bernardino   |   Riverside   |   Palm Desert   |   Indian Wells   |   Bakersfield   |   Clovis   |   Fresno   |   Visalia   |   Hanford

Costa Mesa
Azulon Apartments at Mesa Verde - award-winning, gated, resort-like community with Santa Barbara ambience. 1 and 2-bedroom luxury apartments start in $1800's and up (verify).  Saltwater pool and spa, in-home w/d,  smoke-free, clubhouse and much more.
1500 Mesa Verde Dr. East, Costa Mesa -  855-371-8844
Fairview Commons - Independent coastal living near Newport Beach.
2283 Fairview Rd., Costa Mesa
Laguna Woods (Orange County)
San Sebastian - 55 and older new luxury 2-bedroom condominium rentals - gated parking - pool and spa - pets ok (some restrictions) - Concierge - some furnished
24299 Paseo de Valencia, Laguna Woods, CA - 866-485-2868
The Towers (formerly Leisure World) For sale or rent condominium apartments with services - 2 high rise buildings - studios to 3 bedrooms - services include dinner with salad bar, housekeeping, linen changing.  
24055 Paseo del Lago W, Laguna Woods - 949-597-4278
Ladera Ranch (Mission Viejo)
$$/$$$ The Remington - Luxury 1 and 2-bedroom apartments with balcony/patio in southern Orange County - Washer/dryer in unit, elevator buildings with controlled access. Amenities include gas cooking, fridge with icemaker, central air, walkin closet and more (please verify info).  Clubhouse, pool, hydrotherapy spa, fitness, barbeque. Starts high $1300's (apartment rents can change without notice so please verify)
25501 Crown Valley Pkwy, Ladera Ranch - 949-347-9800 - Open daily 9-6
Escondido
Heritage Park in Escondido - 1 and 2 BR's - gorgeous pool area/spa, clubhouse - 40 minutes to San Diego - Flexible leases. 
Ph: 760-705-3474 - 2549 East Valley Parkway 

San Diego
Village North Garden Apartments - Starts age 62 - 1-bedrooms
Ph: 858-560-5707 - 7720 Belden St., San Diego - Open Mon-Sat
Villa Pacifica - San Diego -  Many walkable amenities in Hillcrest neighborhood. 3630 Sixth Ave. - 619-294-3234
(also see above list from Meta Housing and 55+ Communities in San Diego)
Westminster
$ Stratford Place - affordable housing in Westminster by Related

Torrance
$$ Pacific Inn - Lush grounds and nearby beaches - by Brookdale.
San Bernardino Area - Loma Linda
$$/$ Loma Linda Springs  - Near Loma Linda University - Large units with fitness, pool, hot tub. Loma Linda has won awards for being a "healthy" town.

Riverside
$$/$  Overture Riverwalk - Riverside - Clubhouse, pool, putting green, business office and more. Activities and amenities. Mission architecture. From the $1,100's. Phone: 951-687-2464 - 4725 Sierra Vista Avenue - Riverside
$$ Raincross Senior Village - 1 and 2-bedroom luxury apartments - Community has pool, fitness and more.  Convenient to Old Town Riverside.
Phone:  951-359-0100 - 5234 Central Ave., Riverside
Palm Desert
$$$  Atria Hacienda Palm Desert - In Riverside County - a new luxury community that includes independent and assisted living.  Atria has month-to-month rentals and includes your meals, housekeeping and more.  This one is quite luxurious with a spa, on-site massage, beauty and barber shops, and more. Atria has several communities throughout California.
Ph: 760-773-3772 - 44-300 San Pascual Dr., Palm Desert

Indian Wells
$ Indian Wells Villas  - For 62+ Near Palm Desert - 1-bedroom non-smoking (verify) units start $800's (verify as rents can change).  Many luxury features including pool, controlled-access entry, w/d, and more.
74-800 Village Center Dr., Indian Wells - Open M-F - 760-568-9199
Bakersfield
$$ Carriage House Estates by Holiday - 1 and 2-bedroom and cottages. Includes 3 meals a day. Guest room available.
Columbus Estates by Holiday
Clovis
Yosemite Gardens - by Holiday Retirement Corp.
Thousand Oaks Senior Rentals
Castle Hill Retirement Village by Holiday
Fresno
$ Northpointe Village - affordable rental apartments for seniors by Related.
$$ Fig Garden by Holiday - Independent living - month-to-month rentals with services.  6035 N. Marks Ave., Fresno  
Ph: 559-474-4029
Visalia
Walnut Park by Holiday
Hanford
$$ Remington - by Holiday

---
Northern California
Oakland  |  San Francisco  |  San Jose  |  Santa Clara   |   Livermore  |  Sacramento  |  Santa Rosa  |  Oroville  |  Rohnert Park

Oakland
$ Noble Tower-Related - 195 affordable senior rentals in High Rise across from Lake Merritt by Related - since 2005
Ph:   646- 961-4331 (main) - 1515 Lakeside Ave., Oakland

San Francisco
$$$ The Paramount - Heart of San Francisco - not over 55 but a stylish urban city lifestyle in a new luxurious high rise with things to do in a walkable city.
Ph: 646-961-4331 - 680 Mission St. SF 

San Jose
$$$ This is one to check out due to its location in Silicon Valley: Santana Terrace Senior Apartments. 92 1- and 2-bedroom luxury apartments in a contemporary-designed elevator building.  Also, there will be a large spa and some nice facilities for pets.  Rents are planned to be in $3000's. Near Valley Fair Shopping Center. Verify all information.  190 North Winchester Blvd., Santa Clara

$$/$$$ Brookdale San Jose in Santa Clara Valley by Brookdale - all the luxury amenities in 1 and 2 bedroom apartments. 
If you are looking for something larger, they have a unique floorplan called The Combination with side by side suites.  
1009 Blossom River Way, San Jose - 877-769-3516
Livermore (San Jose area)

Heritage Park Livermore by AIMCO
Also See Bay Area
Sacramento
Carefree North Natomas - Sacramento - By Carefree Senior Living - Gated resort-style community - Also Single-level Villas. 1 and 2-bedrooms. Short term leases option.  Clubhouse, pool, activities and more.
888-468-8986 - 5601 Natomas Blvd., Sacramento 
Santa Rosa
Lodge at Paulin Creek - ten acres off of 101 - heated pool/Jacuzzi, exercise room by Brookdale.

Oroville
Orange Tree Senior Apartments - 49 apartments in downtown convenient to transportation, shopping, libraries, hospital, etc. 65 miles north of Sacramento - 2 1/2 hours from San Francisco.

Rohnert Park
Copeland Creek Senior Homes - Heated pool, non-smoking, solar, Fitness center, gardening area, walking trails. Sonoma County 50 miles north of San Francisco.  Studios and 1-bedrooms.
101 Enterprise Dr., Rohnert Park - 707-586-9453 - Open Mon-Fri 9-5


Also See: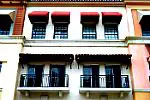 California senior apartments