Short-term Furnished Rentals
...seasonal rentals at senior communities for over 55
Short-term-furnished rentals for seniors are frequently available but sometimes in short supply. Therefore, it is often necessary to apply for the rental well ahead of the time of your stay.
Short-term usually means less than the standard 12-month lease.  The short-term lease is most commonly month-to-month, 3 months or 6 months.
Rentals that include furniture usually cost more than unfurnished, especially when they are short-term, and because they are furnished. Because of all of the amenities that a community may offer, these rentals can be a good value for retirees.
Many short-term-furnished rentals are located in warm areas that are frequented by snowbirds and are called winter rentals or seasonal rentals. The season is November through April but may be slightly different.
  Separate Pages for Rentals:
  Senior Apartments in Los Angeles area
  Senior Apartments on Long Island NY
Tips for Renting:
Some things to be aware of:
Most short-term rentals are handled the same way as any long-term rental:
There are some important differences in leasing short-term:
How Furniture is to be handled
Expiration Date 
You will sign a lease that would state the unit is furnished (or fully furnished if housewares are included), the term of the lease, rental rate and expiration date.  
Always read contracts carefully.
A security deposit may also be necessary.  
If there is a possibility that you may want to stay longer, be sure to ask about this so that the contract will state the rental will go month-to-month at the end of the lease term.  (Some communities will not allow longer stays when the term expires.)
There may be a firm expiration date to allow the apartment management to get the unit rented easier for the summer season when your lease is up.
Some leases may be month-to-month. This allows either party to leave with a 30-day written notice.  
Ask if a 30-day notice is required.  If so, it will be in the contract.  Read contracts carefully. 
Everything should be written in the contract (lease).
When you move in, it is an extra precaution to photograph any damage you see to furniture or apartment, if any, to document that you were not the cause.
A furnished rental is the most carefree way to travel between your home and your winter destination. 
If you can, see the rental. If you cannot see it, ask about the furniture, beds arrangement, kitchen facilities, phone hookup, and if utilities are included. (See my list below.) 
Usually a furnished rental will include electricity, water and gas. But never take anything for granted, and ask.
Ask also if there is a place for computer hookup if you need it.
To summarize things to know when renting a short-term furnished rental:
Read lease carefully.
Ask questions about whether utilities are included in rent.
Make sure wording "furnished" or "fully furnished" is used to describe your rental.
Make sure the number of bedrooms/baths is included in lease.
Ask about special hookups for phone or computer.
Ask about expiration date and if you can stay longer than lease term if necessary.
Ask if you have to give a formal 30-Day written Notice or does the lease just end at expiration date.
Photograph any damage in apartment or furniture as an extra precaution.
Ask about what rental includes such as bed arrangement, kitchen facilities.
Ask if housewares such as silverware, linens, pans etc are included in the rent or extra. The term fully furnished as opposed to furnished generally means housewares are included, but ask what they are.
Ask if there is a security deposit--if so, amount and terms.
Ask what amenities on the property you can use and if they are included in rent or extra fee.
Ask about pets and rules.
Ask what are the terms for getting out of the lease ("breaking the lease,") should it become necessary.
You can ask the rental office at apartments you like if they have short-term furnished rentals.  See our Senior Apartments page
This page is for your vacation or snowbird getaway to make it easier for you to find them. This is also a good way to "try out" communities for retirement. 

Holiday Retirement
Holiday has communities in 44 states and 7 in Canada. They are very accommodating and try to meet your needs.  They may be a little pricey depending on the area, but offer good value since rents include meals and housekeeping as well as other amenities.  
They have furnished and unfurnished. They have studios, 1 and 2 bedrooms and some have cottages.   There usually is a 3-month minimum stay but I would recommend asking as each community is different.
I checked on Kalama Heights (808-879-1500), their community in Maui, Hawaii, and was told for 2 people a studio would cost around $3500/month which includes meals and housekeeping (verify all information as it can change).  Considering how expensive Hawaii can be, this sounds like a good deal.  At Kalama Heights the beach is within walking distance.
Another great feature is their travel program.  If you are a resident at one of their communities, you can reside at another one of their communities for a week at no cost to you (verify). 
Some also offer assisted living and memory care although most are for independent, active living.
Some also offer a try-out stay.
Arizona: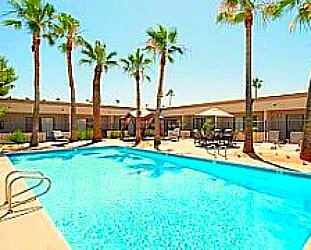 Mesa:
Sun Villa Apartments Mesa - About 12 rental units available for winter rentals. Apply early. Outstanding amenities available to 55+ residents. Please verify all information as it can change. Sun Villa Apartments 
Rio Verde:
Rio Verde Country Club Rio Verde in the Valley of the Sun - Golfers paradise - Clubhouse dining - a lifestyle - Own a home or come for a vacation rental. Rio Verde Country Club
Florida:
Southern:  Pembroke Pines
Hollybrook Golf and Tennis Club Pembroke Pines - A nice base in warm southern Florida. Fishing and outdoor sports nearby. Condominium apartment-styled near 2 airports and cruise ship ports. List of yearly or seasonal rentals on their website. Hollybrook Golf and Tennis Club
Westcoast:  Naples
Eagle Creek Golf and Country Club Naples - Not over 55 community but if you like golf and an upscale exclusive atmosphere, this may be appropriate. We do not make recommendations but they list seasonal rentals on their website so it makes it easier to know what is available in the community.  Eagle Creek in Naples
Also see Florida Senior Apartments

California:
San Diego:
Paradise Village National City 6 miles to San Diego - 2 miles to beaches - Month-to-month seasonal rentals are available at this wellness-centered retirement community in the beautiful climate of the region with temperatures averaging in the 70's year round. Paradise Village
Also see California Senior Apartments

Other pages on our site that list seasonal rentals:
For your convenience, we highlight in yellow communities when they  offer seasonal rentals on these pages.
Manufactured communities in Florida
---
Resort Rentals
Retirement Resort Rentals - List of popular retirement resorts on this site.